If you have the Zipcar iPhone® or Android™ mobile app installed, you can unlock and lock your booked Zipcar right from your phone. To get started, make sure you have the following setup:
You are approved to drive
Your mobile device is registered
Location sharing is enabled on your mobile device for the Zipcar app
Your Zipcard may also need to be activated in order to use this feature.
Once your ride is ready to begin, the lock and unlock icons will appear in the Drive screen of the app.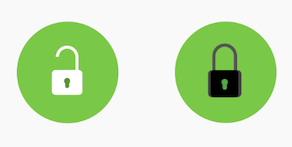 Note
Once you have received your Zipcard, you should always carry it with you during a trip. In the event your phone or the vehicle go out of cellular reception, your Zipcard will allow you to continue accessing the car.
Your phone and the Zipcar must have cellular reception and be within close proximity of the car for the lock and unlock options to appear in the mobile app.